Onto my bullshit
Unto the breach
With my lack of focus
Kitten brain
Pick any three. I'm blaming the carb feast my Beloved brought home for Valentimes. We're belaying the actual good food for tonight because like literally everywhere was booked out before we even thought of it. So Beloved brought home cheesecake, chocolate, ice cream, and macarons and we binged MacGuyver and ate a lot of crap.
Perfect couple's night IMHO.
Tonight, we're headed off to Hoggies for a belated Valentimes dinner with the kids [I'm attempting to stay on the wagon though] and we have PLNs to go see Alita: Battle Angel at a later point in the weekend.
This, after I showed Beloved the original anime [it's a downer] because they have hopes that it's all been rewritten with a happier finish. I love you, babe, but I think that would alienate the portion of the audience who knows this existed in the 80's.
I'm willing to be wrong, though. I remember the original Alita and being disappointed in the last ten minutes. I'd rather not have that happen again, for the record.
I have one thousand words to put in my book today. I have a flash fiction to write. I have a TAZ instant fanfic to do that's not the thing I wrote to goad on my artist friendo. Over here if you want to look.
And look, I already got fanarts from not-my-artist-friendo: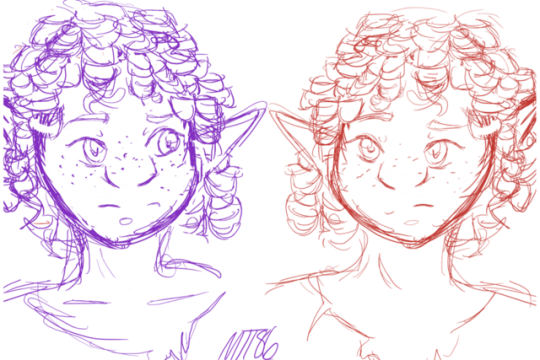 [Shown here: two baby-faced young Elves with ringlets, looking at each other, drawn in what appears to be pen. The one on the left is purple, and the other one is brownish-red. Go look for tgapa on tumblr and give them loves.]
Today is a fun day to be fritzed out in the head, I guess.